Our certifications demonstrate the high standard of quality in our work and attest to our transparent, comprehensible processes.
---
ISO 9001:2015

With structured translation processes and a project management system that compiles all necessary information for the translator and closely monitors delivery deadlines, we ensure that our mechanism is running smoothly, without a hitch.

We are constantly updating our technical infrastructure, making sure we always have the right tools at our disposal. Our quality assurance process is compliant with DIN EN ISO 9001:2015 -– but you probably already guessed that.
---
ISO 17100:2015

Our translation services are also certified in accordance with ISO 17100.

This standard specifically relates to translation services and defines the requirements, processes and qualifications for the areas of personnel, technology, quality management and project management, along with contractual parameters and work processes. Information security plays a major role here, and translators'' qualifications must be verified. Our certification confirms that we meet the ISO 17100 requirements in this regard as well.
---
DIN ISO 18587:2018
This standard sets forth the specifications for machine translations, consisting of three processes: the preparation, the translation itself and the postprocessing. The focus is on the postprocessing - that is, the postediting. The result should be a translation that cannot be distinguished from a human translation.
---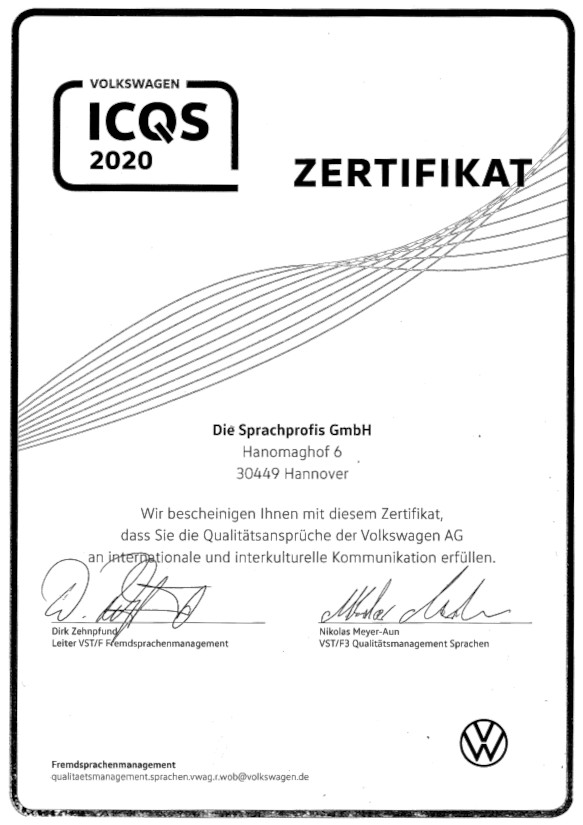 ICQS certificate from VW
In regular intervals, we undergo a full audit by our customer Volkswagen AG. The resulting certificate shows that we meet the quality demands of one of the world''s largest corporations - and we''ve been doing so for over ten years already.
---
tekom

We are a member of tekom, the German professional association for technical communication. It''s a forum in which highly specialized knowledge workers from the fields of technical editing and technical translation share their ideas and promote new developments.