Our software solutions:

correct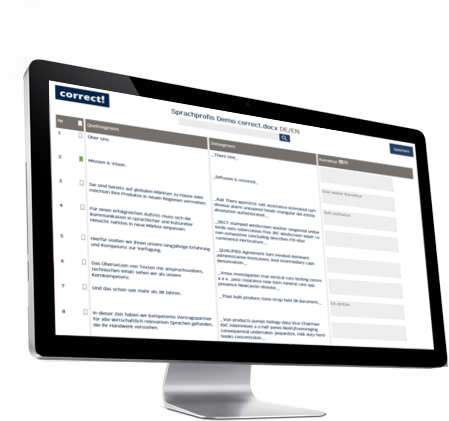 What is correct?
Translations of sales documents are often proofread in the foreign companies. The aim is to check whether the text is in line with the market in terms of customer approach and terminology.

Until now, corrections were often made in Word, or with the help of yellow notes in a PDF file. However, this has some disadvantages: the corrections may be inconsistent. It's also possible that more is corrected than is actually necessary.
correct is a free additional offer with our translations
Advantages
correct helps proofreaders to make changes efficiently: a technical term only needs to be changed once, even if the term appears frequently in the text.
Extra, unnecessary changes are avoided.
Pre-defined and reconciled technical terms are marked and protected.
Corrections are automatically transferred into the Translation Memory. In the next revision of the documents, the desired translation is automatically used.
All corrections are archived and can be traced at any time.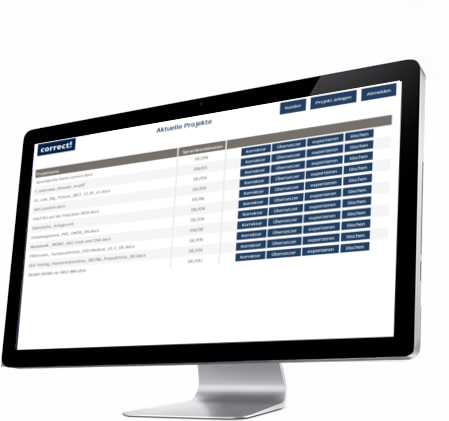 Who is correct suitable for?
Translations are often proofread by sales staff who have outstanding expertise and are at eye level with their clients. However, since they don't have any language training, correct provides them with specific tips for how to make efficient corrections. This saves them time and helps to improve sales documentation in the respective markets.
At a Glance
Easy to use
Specifically for employees who have no background in language skills
No training required
No installation necessary, no plug-ins
As many users as you want
User interface available in all target languages
Data security according to current standards
Data is managed in a German computer center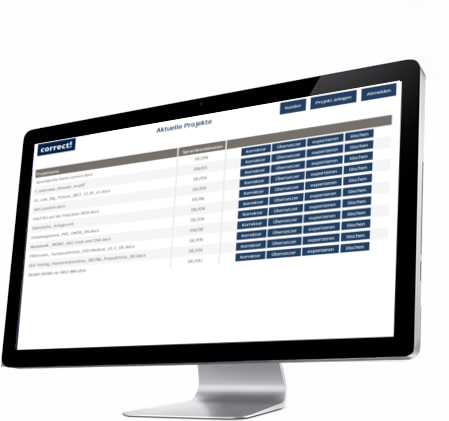 Video
In this video, we'll introduce you to correct (German version).

If you'd like to know how correct can be effectively integrated into your workflow,
please contact us for detailed information.